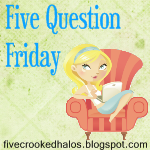 This is my first time participating in Five Question Friday. If you want to play along, visit
Mama M's Blog
to get the code for the FQF button, copy the question to your blog and insert your answer, then head back to Mama M's blog to insert the link to your FQF post into MckLinky so others can come check out your answers and learn more about you.
What were you doing the last time you really had a good laugh? It happened just a few minutes ago. We are eating lunch and my daughter looked at my husband and said "Dad, I have to tell you something. Do you know when you eat, your ears wiggle?" We tried to stiffle our laughs but then she wanted to know if her ears wiggled when she ate too and we lost it. She is such a funny kid....our own inhouse comic!!



Who was your first CELEBRITY crush?

Donny Osmond...and I think he is still hawt even today!



What is one talent you wish you had?

I wish I were more artistic/creative. There are so many things I would love to do but I just lack any creativity of my own.



How often do you and your spouse go out w/o the kids? Is it frequent enough?

Never...seriously. My husband works a lot of hours, so when he is not working, we really just enjoying being together as a family.


What colour(s) is your bedroom?

A dark-ish tan color...same as the rest of the house. Not a color we chose but it is the color that was in the house when we bought it. I want to paint it but am undecided on what color.